---
Q1. What is a "trout park"?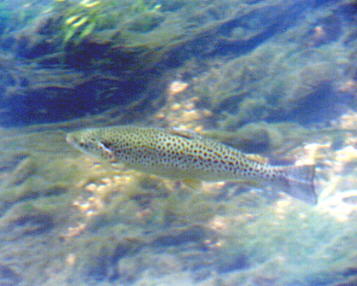 A1. Bennett Spring State Park, Maramec Spring Park, Montauk State Park, and Roaring River State Park are known in this region as Missouri's "trout parks." In Missouri, there are five different types of public trout fishing areas: trout management areas, special trout management areas, wild trout management areas, urban winter trout areas, and trout parks. The trout parks are the most popular of the five types of areas, and account for about ten percent of all the fishing that takes place in the state. In each trout park you will find a beautiful Ozark spring creek generously stocked with nice-sized trout.
Q2. Where are these trout parks located?
A2. Bennett Spring is located in Dallas and Laclede Counties, 12 miles from Lebanon. Maramec Spring is in Phelps county 8 miles from St. James. Montauk is in Dent county, near Salem and Licking. Roaring River is in Barry county 7 miles from Cassville, in the same general area as Branson, Missouri. Meramec State Park, near Sullivan, is a state park but is not a trout park. Maramec Spring Park and Meramec State Park have similar names, and are sometimes confused. The trout park, Maramec Spring Park, retains the original spelling of "Maramec" while Meramec State Park does not.
Q3. When are the trout parks open?
A3. The regular season runs from March 1 to October 31. There is also a winter catch-and-release season beginning on the second Friday of November and ending on the second Sunday of February. Bennett Spring, Maramec Spring, Montauk, and Roaring River are all open daily during the regular season, but are only open Fridays, Saturdays, and Sundays during the winter.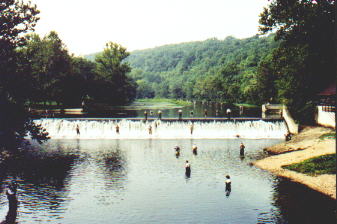 Q4. Who runs the Missouri trout parks?
A4. Bennett Spring, Montauk, and Roaring River are all state parks. They are owned and operated by the Missouri Department of Natural Resources, Division of State Parks, P.O. Box 176, Jefferson City, Mo 65102 (telephone 800-334-6946). Maramec Spring Park, on the other hand, is owned and operated by The James Foundation, 320 S. Bourbeuse Street, P.O. Box 305, St. James, MO 65559. The hatcheries in all four parks are operated by the Missouri Department of Conservation, Fisheries Division, P.O. Box 180, Jefferson City, MO 65102 (573-751-4115). The park superintendent at Bennett Spring is J.D. Muschany (417-532-4338); Montauk's superintendent is John Bufkin (573-548-2201); and Roaring River's superintendent is Kevin Bolling (417-847-2539). The operation of Maramec Spring is supervised by Danny Marshall, Regional Manager and Vice President of the James Foundation (573-265-7124).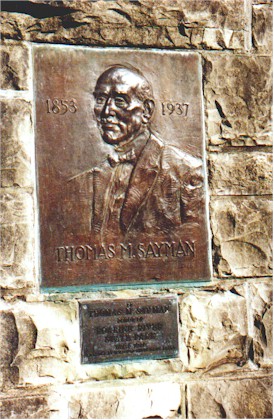 Q5. Why does Missouri have these trout parks?
A5. The Missouri Ozarks region has one of the greatest concentrations of springs in the United States. These springs number in the thousands, and range in size from very small to the largest in the world (Big Spring). Springs have played an important role in the development of this state and are a big part of our Ozark heritage. A large number of people in this state enjoy outdoor activities, and have for generations. Back in 1924, the state of Missouri purchased Bennett Spring and the town of Brice with funds from the sales of hunting and fishing licenses. At the time it was acquired, Bennett Spring already had a trout hatchery on the site and was a popular trout fishing destination. Montauk became a state park in 1926. Roaring River has been a popular trout fishing retreat since about 1900 and benefited from private development prior to its becoming a state park.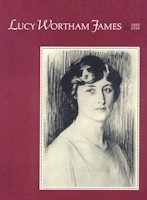 In the 1920s, Dr. Thomas Sayman tried to convince Missouri Governor Arthur Hyde to purchase Roaring River in addition to Bennett Spring and Montauk. The state didn't have the funds, so Dr. Sayman purchased Roaring River himself and donated it to the citizens of Missouri as a state park. Maramec Spring was originally the site of the first successful ironworks west of the Mississippi River. Maramec Iron Works was founded in 1826 by Thomas James. His great-granddaughter, Mrs. Lucy Wortham James, later owned the area and left it to The James Foundation which operates the park today. In the 1930s, the Civilian Conservation Corps helped develop several of Missouri's parks, and our parks have continued to be improved up to the present day. The trout parks are unique, special places. Missourians have appreciated their beauty for generations, and have wanted to preserve them and make them available for all to enjoy.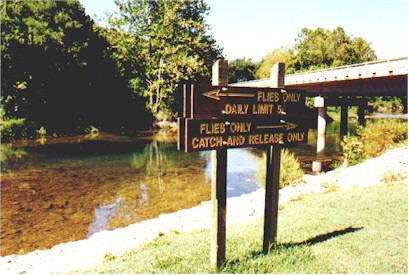 Q6. What is a "zone"?
A6. Bennett Spring, Montauk, and Roaring River are all divided into separate fishing zones. (Maramec Spring is the only park that is not). Each zone has its own set of specific regulations. If you choose to fish in a certain spot, you have to fish in compliance with the rules that apply to the zone the spot is located in. Whether you prefer to fish with natural bait, artificial lures, or flies, you will find many excellent places to fish in the Missouri trout parks. In order to be legal at all times when fishing, pay close attention to the streamside signs displaying zone regulations. Part of the challenge newcomers to the parks have is trying to figure out the most productive ways to fish while staying in compliance with zone regulations. There is an old saying that goes "When in Rome, do as the Romans do." That saying especially applies to Bennett Spring, Maramec Spring, Montauk, and Roaring River. These parks are somewhat specialized and, if you are from out of state, you should temporarily set aside your old methods of fishing and closely imitate the locals.
Q7. What's the fastest way for me to learn how to successfully fish these parks?
A7. The fastest way is to link up with a streamside mentor in one of the parks.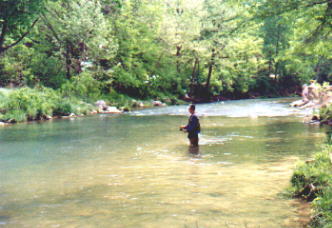 Ozarkers are very friendly and are usually willing to assist a stranger needing help, provided the person is fairly friendly and not too pushy. Visiting Missouri flyfishing shops is another good way to find out what it takes to catch fish in the parks. Most Missouri fly shops could not afford to keep their doors open if it were not for Bennett Spring, Maramec Spring, Montauk, and Roaring River. They realize this, and make it a point to keep up to speed on these parks. Missouri's fly shops are generally staffed by very knowledgeable, dedicated professionals. They love the sport of trout fishing and do their best to help their customers. Carefully listen to what they tell you, and you'll soon be into the fish. Reading Fishing the Missouri Trout Parks is another good way for you to quickly become successful in the parks, too.
Q8. Where should I stay while visiting one of the trout parks?
A8. You have a wide variety of choices, depending on your personal preferences and the amount you are willing to spend. Good camping and lodging accommodations are usually available in the parks, in the areas immediately outside the parks, or in the towns near the parks. You will generally find the quality to be excellent, the people friendly, and the rates more than reasonable. Elsewhere in this Web site you will find a page of links for each of the four parks: Bennett, Maramec, Montauk, and Roaring River. These links will provide you with a wealth of information about places available for you to stay.
Q9. Is there anything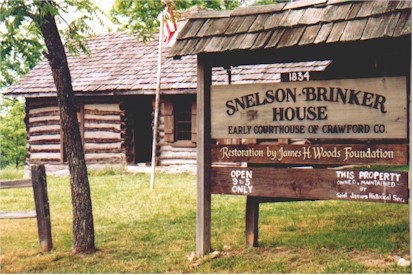 in the parks for the rest of my family to do while I am spending long hours enjoying the trout fishing?
A9. Yes. Bennett Spring, Maramec Spring, Montauk, Roaring River and the immediate areas surrounding them have much to offer you and the non-angling members of your family. If you look, you will find swimming pools, canoe rentals, hiking trails, museums, playgrounds, picnic areas, campgrounds, tennis courts, and many other attractions. Each park is different, of course, so precisely what you find obviously depends on where you are. About the only complaint you ever hear about these parks is that, at times, they are crowded.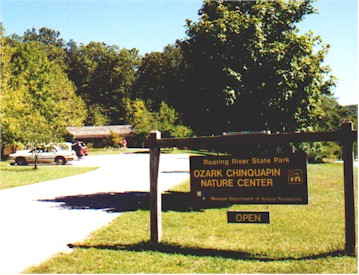 The reason they are crowded is that they are so much fun! The Ozarks have a lot to offer you, and there are hundreds of places to go and things to see within a short distance of the trout parks. Branson and the Bass Pro Shops Outdoor World are both considered a "must" for every visitor to see, of course, but there are many other places to go, too. As pointed out above, elsewhere in this Web site you will find a page of links for each of the four parks: Bennett, Maramec, Montauk, and Roaring River. These links will direct you to information online about many places you may want to visit during your stay in the Ozarks. Some of the most beautiful of these places are located in Shannon County, subject of the audio travel tape, "Voices of the Hills: A Journey to Shannon County." This tape features Ozark history, interviews, and humor along with music by Cathy Barton & Dave Para, Michael Fraser, and Bob Cunningham. Played on your car stereo while driving through the Ozarks, this tape can add an extra dimension of enjoyment to your visit here. (Tapes cost $5 plus $2 shipping, and can be ordered from Media Library, Conservation Department, P.O. Box 180, Jefferson City, 65102. Missouri residents need to add 6.225 percent sales tax.) In addition to our great trout fishing, there are many reasons why you'll want to come back to the Missouri Ozarks year after year!