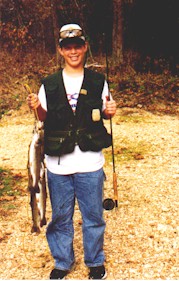 Thinking about taking up fly tying? Catching trout on flies you've tied yourself will greatly enhance your enjoyment of fishing. You are never too young or too old to learn. Getting started today is easier than ever before!
The fish in Missouri's trout parks will hit a variety of flies, many of which are very easy to tie. You can therefore enjoy a fair degree of success with your own flies, even if you are a newcomer to fly tying.
To help you get off to a good start, the December 1996 issue of the Missouri Conservationist magazine contained an excellent article on fly tying for Ozark fly fishermen. Written by Jim Auckley, "A Touch of Midas" introduced the reader to the hobby of fly tying and was one of the best articles ever written on the subject. Fortunately, if you missed the magazine, you can still find it on the Missouri Department of Conservation's web site at http://www.conservation.state.mo.us/conmag/1996/dec/3.html .
Two highly effective flies that you will want to learn to tie right from the start are the Woolly Bugger and Mike's Mohair Leech. As pointed out in "A Touch of Midas," the Missouri Department of Conservation sells an affordable video showing how to tie the Woolly Bugger. Entitled "Conservation Guide to Beginning Fly-tying," it features Missouri fly fisherman, Stream Team Coordinator, TV host, and FFF member Mark Van Patten.
As every avid Missouri fly fisherman knows today, one of the hottest new flies to ever come along is Mike's Mohair Leech. Originated by renowned Missouri fly fisherman and fisheries research biologist Mike Kruse, Mike's Mohair Leech is nearly irresistable to Ozark trout. Elsewhere on this Web site you can learn how to tie and fish this outstanding fly directly from its creator (see links below).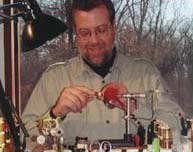 Mark Van Patten's excellent television show now has its own Web site, and it has a lot of good information. Be sure to visit The Tying Bench Web Site soon!