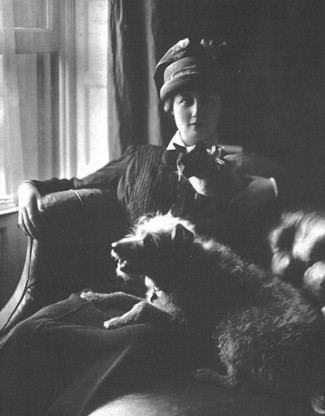 Today, the name of Mrs. Lucy Wortham James is familiar to nearly every Missouri trout fisherman. It is widely known that she was a descendant of the man who started Maramec Iron Works. It is also widely known that she was very wealthy and left Maramec Spring Park to The James Foundation after she passed away in the 1930s. Beyond that, however, things get a little sketchy. Who exactly was she, anyway? How did she end up owning Maramec Spring? Was Maramec handed down from generation to generation until it got to her? What kind of a person was she? Was she born with a silver spoon in her mouth? Did she have any heirs? Whatever motivated her to create The James Foundation? If she was from St. James, Missouri, then why is The James Foundation part of The New York Community Trust? And, if she was a descendant of Thomas James, why is her name Mrs. Lucy Wortham James? Did she marry a man with the same last name as hers, or what?
The life of Lucy Wortham Angus James is one that is particularly colorful and interesting. She was born in St. James on September 13, 1880, and her parents were Thomas James and Octavia Bowles James. Her father's parents were William James and Lucy Ann Dun James. Her great-grandfather was Thomas James, the well-known founder of Maramec Iron Works, the first successful ironworks west of the Mississippi River.
What many people do not realize is that the Maramec Iron Works' fifty years of operation ended in 1876, four years before she was born. By the 1870s the best iron ore at Maramec had already been depleted, and the closest timber in the area had already been cut down and used for fuel to fire the furnaces. Costs of producing iron at Maramec were rising dramatically, and quality was dropping. In that era of booms and busts, timing was everything, and some critical long-term business decisions that were made at Maramec turned out to be the wrong ones. The final nail in the coffin came when the newly-built railroads brought in competition from back east. When it was clear that Maramec Iron Works could not compete with the well financed state-of-the-art iron works in Pittsburgh, Pennsylvania, the James family had no other choice but to throw in the towel. By the time of Mrs. James' birth, Maramec Iron Works had declared bankruptcy and had been abandoned.
In order to support his family, Lucy's father was forced to become a fur trader and storekeeper in the Black Hills of South Dakota. When Lucy was three, her mother experienced serious health problems and came back to St. James with Lucy. Three years later, her father's business in South Dakota failed and things looked bleak. Help was on the way, however.
As mentioned above, Lucy's grandparents were William James and Lucy Ann Dun James. Her grandmother's brother was a gentleman by the name of Robert Graham Dun, one of the country's pioneers in credit reporting and financial information. The firm he founded later became the Dun & Bradstreet Corporation. R.G. Dun soon found his personal income exceeding $1,000 per day! He quickly became a very wealthy man. He and his wife had no children of their own, and he was more than willing to help other family members when necessary.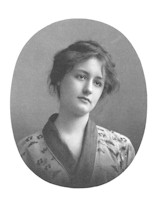 R.G. Dun offered Lucy's father a job with the Kansas City office of his company. For the next five years things went very well for Lucy's family. Then, her mother contracted tuberculosis and had to go to El Paso, Texas for health reasons. Lucy accompanied her mother and helped take care of her. When Lucy was 14 years of age, her beloved mother went home to be with the Lord. Prior to her mother's death, Lucy contracted tuberculosis herself.
Lucy was then invited to come to New York City to live with R.G. Dun and his wife, Mary Bradford Dun, at their mansion on Madison Avenue, just a short distance from J.P. Morgan's mansion. The six years she spent with her granduncle exposed the highly intelligent young girl to fine music, literature, museums, travel, and gracious entertaining. As Lucy grew up she became well-educated, sophisticated, and strikingly beautiful.
R.G. Dun passed away in November, 1900. After his death, Lucy moved to Vienna, Austria to study piano under the great Polish pianist and composer Theodore Leschetizky.
In 1904, Lucy Wortham James married Huntington Wilson, whom she met in 1903 while visiting relatives in Japan. After their wedding in Baltimore, the newlyweds returned to Japan, where Huntington became the First Secretary of the American Legation. At their home, Lucy and Huntington entertained a number of VIPs, including Captain John Pershing, Jack London, Mr. and Mrs. E.H. Harriman, William Howard Taft, and others.
When they returned to Washington in 1912, Huntington and Lucy campaigned for President Taft during his re-election campaign. Taft lost the election, and Huntington resigned from the State Department. Lucy and Huntington then went on a tour of Central and South America. While in the Andes, Lucy suffered a severe attack of altitude sickness. Returning home, she was treated at John Hopkins University Hospital. From that time until her death, she never fully regained her health.
Huntington and Lucy had no children. They divorced in 1915. From that point on, she always called herself "Mrs. Lucy Wortham James."
For the rest of her life, Mrs. James divided her time between New York City and St. James. She was a charter member of the New York Theatre Guild, and a part of high society in New York. In St. James, she was accepted as a neighbor and trusted as a friend. Although people in small Ozark towns have been reluctant to warm up to "big city rich folks" at times, Mrs. James was equally accepted in both places. She was always acutely aware of the plight of those less fortunate than she was, and felt a deep need to do whatever she could to help. She was particularly involved in helping the elderly, African- Americans, and the poor, and made many charitable contributions for medical research.
After R.G. Dun passed away, Lucy's father received a large number of shares of R.G. Dun & Co. stock. However, due to legal problems, he did not receive his shares for an very long period of time. In 1912 Lucy inherited her father's shares, but the long, drawn-out legal nightmares involved made a lasting impression on her. She was later to take extra care so that similar problems did not happen to her estate after her own death.
Prior to her death, Mrs. James owned almost three sections of land in Phelps and Crawford counties, including Maramec Spring. In her will she said "My reason for purchasing the tract was that it is a spot of great natural beauty,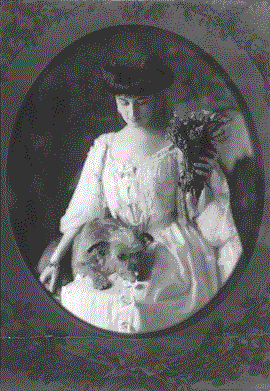 which has been in the possession of my family for generations." Since her health was failing for a period of several years, she had plenty of time to make extensive plans for her estate, and to take steps necessary for it to be handled in accordance with her wishes.
She originally hoped that the Maramec Property would become a national park or a national monument, and offered to donate the property to the federal government. However, the government declined her offer. She then hoped that the New York Community Trust might manage the property, but soon realized the improbability of her hope. As a result, she suggested formation of The James Foundation. Later, in 1937, she offered the property to the Diocese of Missouri of the Protestant Episcopal Church for use as a public park. Her offer was accepted.
For years, Mrs. James suffered from nephritis and a serious calcium deficiency associated with her tuberculosis. She underwent a major surgery in 1929 from which she never fully recovered. Her bones eventually became so brittle that they broke extremely easily. In the last years of her life, she had to endure pain, disabilities, and at times invalidism. No matter how bad things got for her personally, though, she never lost sight of the need to help others.
One day, while at her apartment in New York City, her suffering came to an end. The chronic nephritis that Mrs. James battled so long finally claimed her life on January 20, 1938. She was only 58.
Following her death, there were long legal battles over her estate in New York, Missouri, Rhode Island, and Delaware. However, the arrangements she had made were sufficient, and she ultimately prevailed in the end.
The Diocese of Missouri of the Protestant Episcopal Church eventually took possession of Maramec and ran the park for about six years. The park was returned to The New York Community Trust in 1946. The James Foundation, which had been established in 1941 to manage the property in St. James, then took over management of Maramec.
Over the years, The James Foundation has continued to carry out the last wishes of Mrs. James, and countless lives have been enriched as a result. Lucy Wortham James is still fondly remembered, particularly by those of us who enjoy fishing the Missouri trout parks. A devout Christian, she was always deeply committed to making the world a better place. Her life serves as an inspiration for us today as we try to do the same.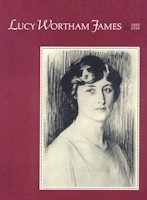 The next time you are at Maramec Spring Park, be sure to pick up a copy of Lucy Wortham James 1880-1938 at the Maramec Museum. Written by Nancy Genet, this biography is nicely done and costs only $8.00. It contains a wealth of fascinating information about Mrs. James, her family, and about Maramec Spring. It is "must" reading for anyone who enjoys the Ozarks!