Missouri Trout Parks Photos
Page 3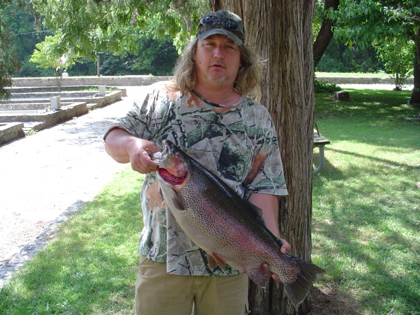 David Little is one of only four anglers who has earned a "Grand Slam -I Released a Lunker" Patch. He has caught and released at least one lunker at all four trout parks in Missouri. On Sunday, August 16, 2009, he decided to keep his catch and head straight to the taxidermist. David (Chip) caught a 14 lb 4 oz rainbow in Zone 1 of Roaring River. David was down to help with Kids' Fishing Day and stayed a day longer to do some fishing on his own. This is the biggest trout he has ever caught.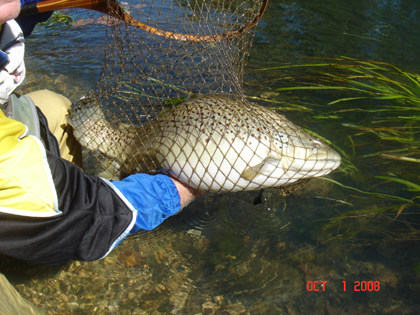 Oct. 1st 2008 Jack Buchschacher of Crestwood, Mo., while fishing at Bennett Spring State Park, caught a German Brown Trout weighing 18 lbs. 8 ounces. This is the largest Brown so far on record at this park. It was caught on a fly rod, 6x tippet, and the lure was a yellow scud with a brown back. The scud shell was tied with soft plastic, which is legal only in Zone 3 of the park.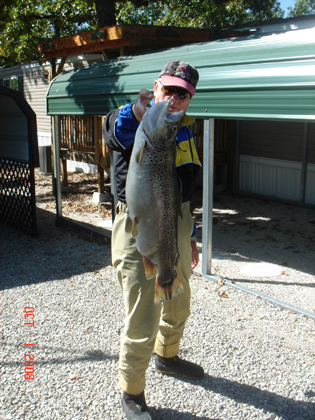 Here's another shot of Jack and that remarkable fish!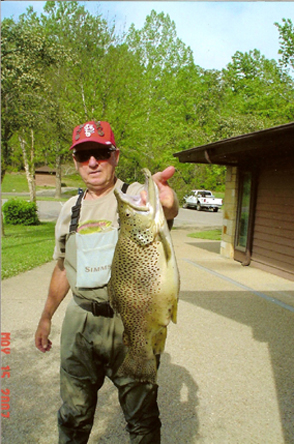 Twenty-six inch 16 lb.12 oz. German brown trout caught at Bennett Spring State Park on 5/15/07 by Jack Buchschacher of Crestwood, Missouri. Jack caught it on a tan San Juan Worm while using a 3-weight, 7-foot fly rod with 2-lb. test P-line tippet.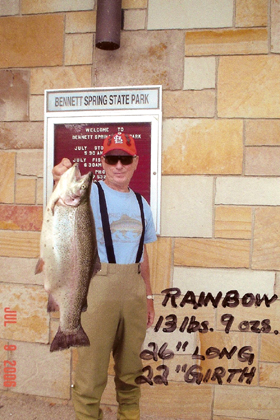 This rainbow trout was caught at Bennett Spring State Park July 9th, 2006, by Jack Buchschacher of Crestwood Missouri. At that time it was believed to be the largest rainbow recorded for the year at Bennett.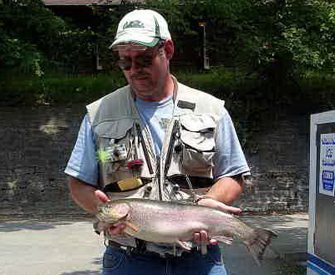 I took this 5-pound 14-ounce 22 1/2-inch rainbow June 4, 2005 at Roaring River State Park. I was using a Mike's Mohair Leech on my 9-foot St. Croix Ultra 6-weight fly rod, with 7X tippet. I was told the pattern didn't work - were they ever wrong! It took me about 20 minutes to land this guy, and I had a great time with it.
-Submitted by Bill McCorkle, Pittsburg, Kansas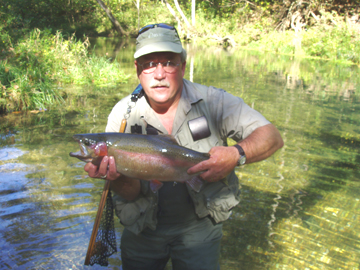 Thought I would share a catch-and-release fish caught on 9/19/04 in the fly-only area of Montauk State Park. Not sure of the weight or length but the fish was taken with a 3-wt. rod, 6x tippet and a #22 Copper John. These bigger fish are wonderful creatures and a joy for anyone to catch. I encourage more fishers to consider catching and releasing these bigger fish. There are certainly plenty of the stockers available for the pan. The state of Missouri has some incredible trout waters and Montauk is just one of them.
-Submitted by Rick Franke, St. Louis, Missouri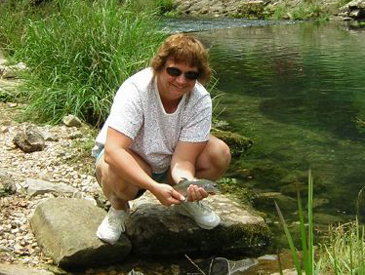 Marsha McCorkle of Pittsburg, Kansas, with her first fish ever. When she caught the trout, she was using a fly rod she had just learned to cast. Roaring River State Park is now one of her favorite places to camp and to take day trips for fishing.
- Submitted by Bill McCorkle
My family and I have been coming to Bennett Spring for 15 years now. We have never seen anyone bring in any thing this size before, nor have we ever seen one in the water other than the ones in the hatchery.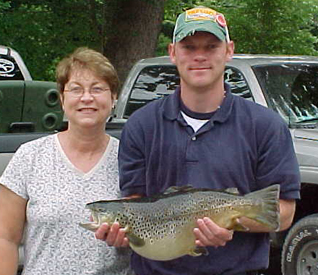 I was tired of fishing that morning on June 20th, 2004 (Father's Day). I decided to sit on the bridge in my jeans and socks. While everyone else finished fishing, I went ahead and cast out with a white jig, 3# test and just let it sit on the rocks at the bottom of the stream. When all of a sudden I couldn't see my jig anymore. Then I saw a dark object turn shiny. I knew what that was, and that it was big. I gave a little jerk on my line and off it went, with me right behind it. I followed the fish upstream, and in the stream with nothing but blue jeans and my socks on, for about 15 minutes. I landed the fish and ran to the Park Store to weigh it. It weighed 8 pounds 8 ounces, and was 21.5 inches long.
I love this place and will always return.

Shane Self
Grain Valley, Missouri
Shane Self is shown here with his mom Shari Self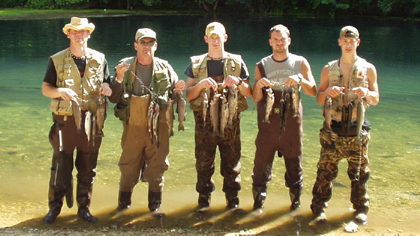 Here is another picture from Shane's June 2004 trip to Bennett, which includes his father and three brothers.
Starting from the left - Shane, Gary (Shane's dad), Casey, Shawn, and Corey Self.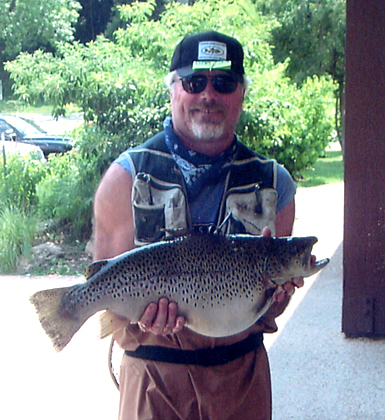 Jeff Tiefenauer of Desloge, Missouri has landed one of the largest fish ever caught in Missouri's trout parks. On Sunday, July 13, 2003, he caught the amazing brown trout shown here at Bennett Spring. This history-making fish weighed 16 pounds 15 ounces, measured 26 1/2 inches in length and 23 1/2 inches in girth, and was the largest fish ever caught at Bennett Spring State Park. Jeff was fly fishing using a Dave's Red Fox Squirrel Hair Nymph and 2-pound tippet. Jeff is a member of Trout Unlimited and has caught many other lunkers over the years.
On the 23rd of July, my dad and I arrived at Montauk and headed out to the stream around 12 o'clock noon. After entering the stream near the start of the trophy area, I hooked up with my first fish less than five minutes later. I noticed right away that it was a big fish, and I told my dad that I had a nice one on the line. It looked like maybe a two pounder or so, somewhere around 18 inches long, but just big enough to give me trouble landing it. After netting it, I really got a nice look at it. I couldn't believe the girth on this fish! Three people who were fishing downstream from us immediately came to check it out.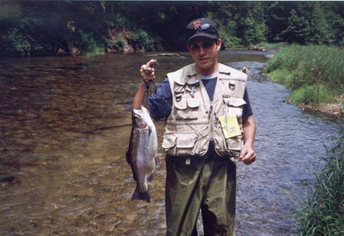 One estimated its weight at around 5 pounds, but all agreed that it was a lunker by Montauk's standards. My dad and I headed down to the lodge to weigh this mighty fish, and were amazed at the size of it. It was an astounding 4lbs 2oz and was 19 inches long! Needless to say, I am still excited because this was my biggest fish yet and my first ever lunker! I received a lunker patch from Montauk State Park, and added my name to the lunker board.
Tim Curran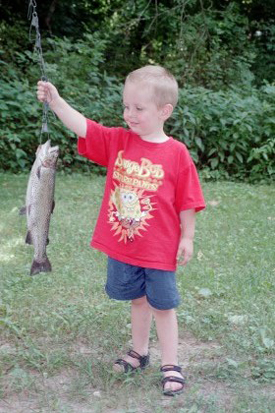 Here is a photo of my son Isaac H. Nie, 3 1/2-years-old, with
the largest of the five rainbows he caught on July 1, 2002, at Bennett Spring State Park. This was the first time he had gone fishing and he had a blast. Isaac was using his Snoopy rod and Power Bait just below the Suzie Hole. The rainbow in the photo was 16" long and weighed 1 lb. 13 oz. We live in Union, MO.

As a side note, this trip was over the same weekend that Greg Termon caught his 7 1/2 lb. rainbow. We saw him outside the park store carrying it around. I couldn't believe how big around that thing was.

Take care,
Mr. Gale R. Nie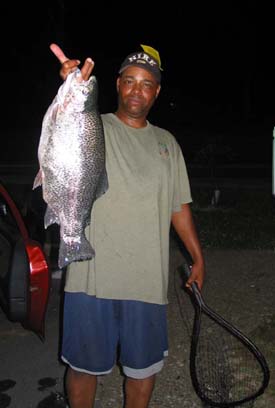 Greg Termon of St Robert, Missouri hooked into this 7 1/2 lb
rainbow trout at Bennett Springs State Park on June 29, 2002.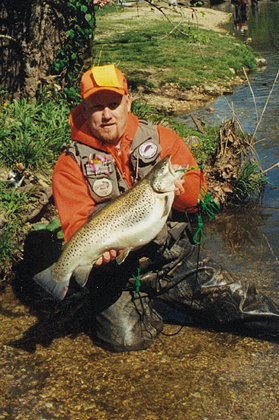 On April 25th, 2002, I landed this 13 pound brown trout in zone 2 on 2 pound test. My first trip to Bennett Spring was almost 34 years ago when I was 6 weeks old. I have been coming to Bennett ever since. I have tried the other trout parks in the state but I always come back to Bennett. Even though it is a 4 hour drive from where I live in Illinois I still pass two other parks on my way there. About 10 years or so ago, I had a fisherman I had met in the stream show me how to tie my own flies and jigs. And he was from Iowa. Ever since I have been bringing up some really nice fish. Using as much material as needed to hide the hook is very important. I can accomplish this by tying my own lures for myself rather than trying to keep my material cost down for a bigger profit when selling the lures to someone else.
Michael Durbin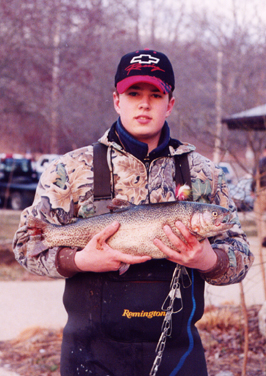 Clinton Kiely
Blue Springs, Missouri
Rainbow caught at Bennett Spring State Park, March 1, 2002
6 pounds, 13 ounces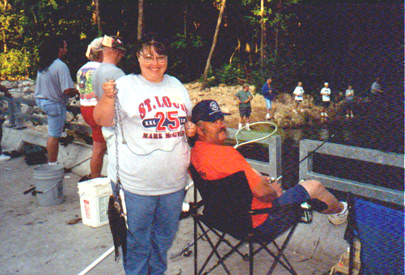 Ladies enjoying fishing the trout parks, too!
Cheryl Korsmeyer of Holts Summit, Missouri proudly displays a nice limit of Bennett Spring trout she caught in only thirty minutes. Her husband Tom looks on approvingly as he waits for his next strike.
- Photo by Elmer Johnson, Warrenton, Missouri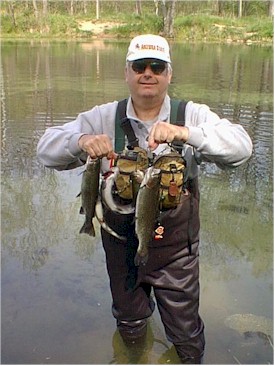 Dr. Richard Bursua


Beware of this guy. Optometrist by trade, Angler by passion. Often called "The Punisher", you can find him roaming the streams of Montauk State Park, his favorite place to unleash his fly-fishing fury.

Trout fear him, fellow fishermen revere him.

- Submitted by his biggest fans.....the rest of the Bursua Family:

Phoebe, Brian, Adam, and Angela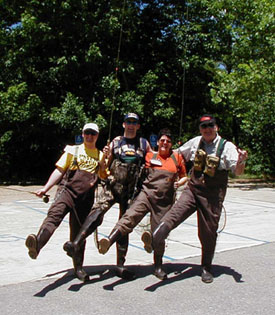 Have a rollicking good time at the Missouri Trout Parks!
From left to right (all members of the Bursua family fishing expedition): Brian Bursua (lives in Seattle), Adam Bursua (soon to start pharmacy school), Angela Bursua (Brian's wife and corporate designer for Nordstrom's mother store in Seattle) and Richard G. Bursua, O.D. (Marion, Illinois).
- Photo by Dr. Bursua's wife, Phoebe.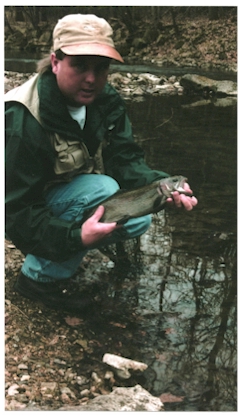 It was a mere 40 degrees on a cold and windy day, but Randy Wood of Tulsa Oklahoma was determined to learn the craft of fly fishing. He received a fly rod as a Christmas present and this was the second time he ever attempted it.
As the day grew colder - he was just about to throw his last cast when he caught this Rainbow beauty. Now, and forever, the fever of fly fishing is in his blood and he ventures to Roaring River each and every opportunity he has. I guess you could say he is "hooked"!
-Submitted by Bridgette Wood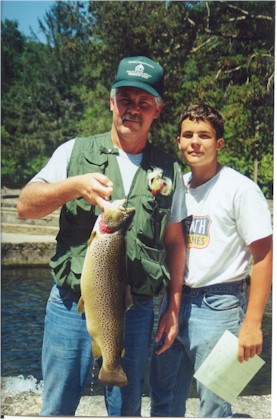 Derald Boman from Commerce Oklahoma, pictured with his son Derrek, caught this beautiful 9.25 lb. brown trout on a black jig two pools below the Hwy F bridge at Roaring River.
At the time he caught this outstanding fish, Jamie Fuller was an 18-year old part-time employee at the Roaring River hatchery. That September day, he fished early before work and caught four regular stockers. After work, he went down to Zone 3 to the hole with the rope swing to try his luck there. He did spot a big fish in that hole and used about everything in his tackle box, but the fish he was after showed no interest. He was about to give up when he saw a grasshopper. He decided -what the heck - tied on a hook, caught the grasshopper, and put it on his hook. The first cast that Jamie made with the grasshopper -the big fish took the live bait. It took 20 minutes to land the 10.5-pound male brown trout. Jamie was walking on air for about 5 days. Needless to say, he will remember that experience for the rest of his life!

- Submitted by Jerry Dean
Return to Photos Page 1
---
Home | Fishing the Missouri Trout Parks Book | Frequently Asked Questions
Park Hours | Calendar of Events | Kids Fishing Day | Your Photos
Maramec Spring | Maramec Spring Links | Mrs. Lucy Wortham James
Montauk | Montauk Links | Roaring River | Roaring River Links
Fly Tying | Mike's Mohair Leech | Privately-Operated Trout Parks
News | Weather and Fishing Reports | Other Links of Interest
---